To book a
room please
call or email us
Liverpool Lodge is a modern comfortable Guest House
B&B Hotel - Near the heart of Liverpool City Centre.
We cater for groups, couples and singles and are near
To all major attractions in Liverpool, including:
• Aintree Racecourse - home of the world famous Grand National
• Liverpool and Everton Football Clubs
• City Centre - which boasts a thriving night life!
• Shopping at Liverpool One Complex
• Many Museums including the Science and Natural History Museums
• And of course the world famous Beatles Museum
When in Liverpool "Liverpool Lodge" is a great place to
Stay to make the most of your time in this wonderful city!
Liverpool Lodge is located in the centre of Kensington Liverpool.
We are on the main road from Manchester / London and Airport
Near the City Centre.
It is on the corner of Coleridge Street and 187 Kensington,
Opposite the Kensington Bar. The postcode for Taxis is L7 2RF.
(For Free on road car parking at rear with Sat-Nav use postcode - L6 6BS)
We are located 1 mile (1.5 Km) from the City Centre and 1 mile from Anfield Stadium home of Liverpool FC and Everton's Goodison Park Stadium.
Rates From £18 / £30 Per Person Per Night! (Includes breakfast)
Rooms at Liverpool Lodge:
We Have:
Single rooms = 1 x Single bed
Double Rooms = 1 x Double Bed
Twin Rooms = 2 x Single Beds
Twin Rooms = 1 x Bunk Beds
Treble Rooms = 1 x Double Bed plus 1 x Single Bed
Treble Rooms = 1 x Single Bed plus 1 x Bunk beds
4 Bed Rooms = 1 x Double Bed plus 1 x Bunk Beds
Family Room = 6 x Single Beds (En-suite Shower)
See Photos!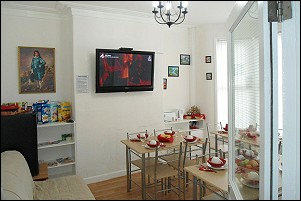 Liverpool Lodge is a Very Modern Guest House / B&B / Hotel in the centre of Kensington, Liverpool on main Road from the Airport / Manchester / London.


We have - Single, Double, Twin and Treble 4 Bed Rooms,
And a Family Room that sleeps six. Breakfast is included.


All Rooms have Flat Screen Multichannel TV, Wi-Fi, Wardrobe, Wash hand Basins, Towels, Juice, Crisps, Chocolate Bars, Snacks, Tea/Coffee Included.
Also fridge, Ironing Board, Shampoo, Hairdryer etc.
Some on suite - others with toilets/showers in adjacent hallways.
Liverpool is a very interesting city, Home of the Beatles, Horseracing at Aintree, Football at Anfield and Goodison, Museums, Cathedrals, Safari Park, Science Museum, Walker Art Gallery, Gulliver's World, Legoland, Liverpool Empire, Cavern Club, Matthew Street, Laughter House, Speke Hall, Martine Museum/German Submarine, Albert Dock, Georges Hall, L1 Shopping Centre, Plus amazing buildings with lots more to see and do! Liverpool is fantastic
For shopping and only half the prices of London or the other big cities!
Plus we are only an hour from Manchester and Blackpool
Also 2 hours from York a fascinating city.
TVs In All Rooms – Juices Snacks - Tea Coffee Making
Free Wi-Fi - Small Library!
Click HERE for Great Offers